Cultivating Expert Facilitators, Committed Learners and Engaging Sessions
About the Remote Learning virtual conference
The Remote Learning Virtual Conference 2020 bought together some of the world's most accomplished remote learning experts to share a smorgasbord of practical, actionable advice in a live 3-day event in November 2020.

The event focused on developing facilitation expertise, discovering how to elicit genuine learner commitment, and determining how to design highly engaging sessions, plus much more.

The event is now over.
Joshua Davies
Founder & Lead Conversation Architect, Knowmium
Moving Minds
Robin Petterd
Founder, Sprout Labs
Growing your learning ecosystem with live remote learning
Nancy White
Founder, Full Circle Associates
Drawing Your Monsters
Chad Owen
Founder, Critical Facilitator, Stimulus
To Zoom. Or Not to Zoom. That is the Question…
Ben Faranda
Master Facilitator
Bringing your human to digital learning: design & delivery philosophies aligned to inclusion, engagement and the right impact.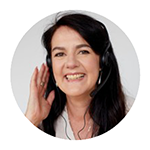 Cheryle Walker
Founder, Innovator, Consultant & Facilitator, Learn LIVE Online
Completely remote - while being facilitator-lead, and peer-connected
Mick Gwyther
eLearning director, Yum Studio
Developing the expertise of your online trainers
Robert Kienzle
Senior Consultant, Knowmium
Radically Remote
Rachel Burnham
Learning & Development Consultant, Burnham Learning & Development
What Sketchnoting brings to learning - the power of pen & paper in our digital world
Michael Cook
Business Operations Manager, Lightbulb Moment
The what, why and when of live online producers
Dr Barbara Covarrubias Venegas
Founder, Virtual Space Hero
#IMPLUSION = impact & inclusion. How to design and facilitate impactful and inclusive virtual events?
Jo Cook
Director, Lightbulb Moment
How to 'read' a virtual audience you can't see
Patti Shank
Founder, Learning Peaks
The RIGHT on demand and live elements for your online course
Lori Niles-Hofmann
Senior Learning Transformation Strategist, NilesNolen
Streamlining Performance Consulting
Iona Dierich
Design lead, Sprout Labs
Visual design for digital delivery
Ray Jimenez
CEO/Chief Learning Architect, Vignettes Learning
Why Skills and Rules Training Fail – Apply Workflow Thinking
| | | |
| --- | --- | --- |
| Will the event be recorded? | I can't pay via credit card, can you send me an invoice? | What platform will you be using? |
| The main sessions will be recorded. The breakout sessions will not be recorded. Due to the interactive nature of the event you will gain more by attending the event live. | Please send an email message to support@sproutlabs.com.au with all your billing details and we will invoice you. | We will be using Zoom Meeting for the event. If you're having trouble accessing Zoom, a browser version of Zoom can be accessed without having to download the application. There is also a mobile/tablet app. |