Learning while working with Totara's On The Job (OTJ) activity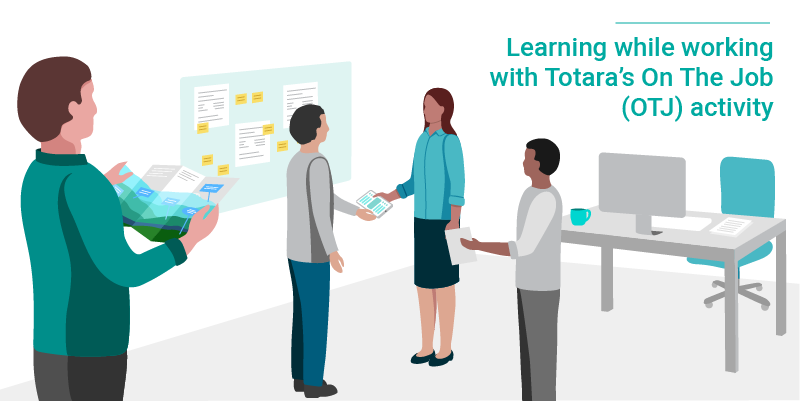 Learning while working doesn't just happen, it needs to be designed and supported. There are some people who are naturally self-guided learners and there are managers who are great at guiding their team's learning. When L&D thinks about digital learning and workplace learning it often is in terms of eLearning modules and focussing on the content, not the process of learning.
The On The Job (OTJ) plug-in for Totara is a good example of using digital learning to guide and improve the process of learning and assessment. It was originally developed by Catalyst IT for New Zealand customs and released under an open source license. Our lead developer Brendan Halley has recently added new features to it. This plug-in is a great example of the power of open source to support collaboration and innovation, at Sprout Labs we have built on the existing work of Catalyst IT.
Solving the challenge of workplace assessments
One of the most validated and reliable ways to assess workplace performance is to observe an employee doing tasks. As organisations move to using the 70:20:10 learning model, one of the challenges is often assessment of informal learning. Basing your assessment observations of workplace activities and behaviours or working with other real evidence of workplace performance is a powerful way to measure a learner's performance while working. The challenge is the system to support this, often organisations end up using a paper based system which isn't integrated into their learning ecosystems. The complexity of managing workplace assessment is often one of the greatest barriers to improving assessment. At Sprout Labs this is how we work on this problem:
Using the xAPI form builder in Glasshouse to build a digital assessment system that can be accessed on mobiles and desktops. In later posts we talk more about this.
Learning On The Job (OTJ) in Totara
How does the Totara On The Job (OTJ) activity work?
The OTJ module is focused on the idea of tasks that can be marked off as completed. The task can be competencies or they can be job tasks. A user with the right permissions can make updates to a task e.g. make comments on progress, mark it as completed or add a number. The feature to add on a number is one we have recently added, it's a new field to record coaching time but it could be used to record performance e.g in sales or number of calls. Employees can upload evidence that relates to the tasks and then the assessor makes judgements based on that evidence. Totara's reporting system can be used to report on task completions. The forms are basic but if you need a more complex form these can be built in Glasshouse's form builder.
How the Totara On The Job (OTJ) activity can be used
Managing assessments
Managing assessment online is the first thing people think about with on the job learning and it's how I've introduced OTJ. One of the most effective ways to measure the impact of learning on behaviour change is pre and post assessments. In Totara Learn this approach can be managed and automated by using a feature called programs. A program in Totara is a series of courses that have a workflow system and notification. This means when a learner starts the program their manager can be sent an email notification to say they need to complete the pre-assessment.
The assessment doesn't have to be direct observations. A learner can upload evidence and the assessor can mark this as satisfactory or not.
One of the most common times an employee's performance is assessed is during probation periods. The OTJ activity can be used to track this process.
The forms in the On the Job activity are simple. There is a check box for each task, a comments field and a field for a number. This number field can be used to record a rating. A more complex form can be built with Glasshouse which has a sophisticated form builder that products xAPI data and can be integrated with the rest of your learning technologies. The Glasshouse based forms can then also be packaged as a mobile application.
Record coaching
The OTJ activity can be a powerful tool for tracking coaching. This how the client we made the customisation for is using it. Each task becomes a coaching topic. The comments and rating can be used to track progress, making it easier for different people to provide coaching and support to a learner. The number field can be used to track hours of coaching completed. The learner can also see which topics have been marked as completed.
Capturing reflection
The module is not teacher/assessor centred, an employee can upload a document. The obvious use of this is assessment but it can be for structured reflection, that only the assessor sees. The task can become the question or a prompt for reflection.
Checklists
Checklists are common in induction and on-boarding learning programs but L&D teams often don't have digital tools for managing and tracking programs on checklists. The OTJ activity task provides a way to manage and track and report on these.
Structuring learning while working
At Sprout Labs when we design programs having a strong "learning while working" aspect, we design a series of workplace learning tasks, that help the learner scaffold the development of expertise. When a learner is just starting, this might be just observing an expert, then they might mirror and do the same work as the expert and later might develop their own job aid. Some of these activities are outlined in our eBook on developing expertise. The sequencing and tracking of these activities can be done using tasks in the OTJ activity.
If you're already using Totara Learn and you're interested in this plug-in, talk with your Totara partner. If you're not using Totara Learn and you would like to know more about Totara Learn and the plug-in, please contact us.